Natalie's School of Performing Arts is the dream of a family that has been immersed in the world of music and performing arts for generations.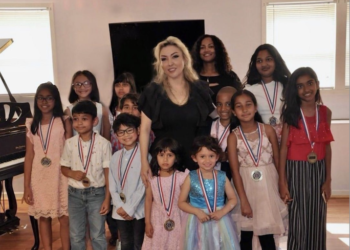 We offer a safe and productive learning environment for students by making sure that our professionals are qualified and are able to offer the highest quality education no matter the learning level.
Schedule a visit or evaluation by calling or texting us anytime at (973)761-3760.
or
by Emailing us at nataliessopa@gmail.com
Why Choose us?
Welcome to Natalie's School of Performing Arts, where the journey to musical excellence begins with personalized guidance and passion-driven learning.  At our school, we offer private lessons in singing (voice), piano, violin, guitar, and trumpet. All Natalie's SOPA private lesson instructors are proficient in ear training, harmonizing, improvisation and sight singing. The private music lesson curriculum offered by our school is tailored to fit the needs of every individual student. A family can opt to have their student learn at a relaxed pace, or ask for more rigorous preparation in anticipation of examinations, competitions, and or recitals. We handle the entire registration, submission, and support process for students every year, sending kids to participate in the Trinity College of London examinations and numerous other international music competitions which allow students the opportunity to perform at venues such as Carnegie Hall from a young age. Many of these programs offer college credits or letters of recommendation, something very desirable in our competitive community.
We also offer group classes in the hip hop, ballet,  Georgian folk, and Bollywood dance styles; while karate, another exciting performing art, has just begun to be offered at our school. Group classes provide an excellent social setting where students can interact with peers who share similar interests. Collaborative dance styles promote teamwork, communication, and a sense of camaraderie among participants. Dance and karate classes are excellent forms of physical exercise. Participants can enhance their flexibility, strength, and endurance while enjoying the rhythmic movements of dance or the disciplined techniques of karate, promoting overall well-being. Performing in a group setting also helps build confidence. Students gain self-assurance as they master dance routines or progress in their karate skills, contributing to a positive self-image.
We have built our curriculum for all age groups and levels. We offer a safe and productive learning environment for students, and we believe the study of performing arts and music offers the best pathway for self expression and personal achievement. It is our goal to provide the understanding and skills needed for each student to enjoy and appreciate their talent for a LIFETIME!
Private Music Lessons
Our private music lessons cater to aspiring musicians of all ages and skill levels, providing an immersive and tailored experience that unlocks the full potential of each individual, because at Natalie's SOPA we believe in the transformative power of one-on-one instruction. Our team of highly qualified and dedicated music educators is committed to nurturing your unique musical voice and helping you achieve your musical goals. Whether you're a beginner eager to grasp the fundamentals or an advanced musician seeking refinement, our private lessons are crafted to meet your specific needs and accelerate your progress.
Discover the Benefits of Private Music Instruction:
Personalized Attention: Enjoy the undivided attention of our experienced instructors who tailor each lesson to address your strengths, challenges, and musical aspirations.
Customized Curriculum: Our curriculum is flexible, allowing us to adapt to your learning style and pace. This ensures a comprehensive and enjoyable musical journey.
Accelerated Progress: Experience faster and more efficient progress with focused, one-on-one guidance that hones in on your unique strengths and areas for improvement.
Musical Exploration: Delve into the genres and styles that resonate with you. Our instructors are adept in a wide range of musical genres, allowing you to explore and master the music you love.
Confidence Building: Private lessons provide a supportive environment where you can build confidence, overcome challenges, and express your musical creativity with assurance.
Flexible Scheduling: Tailor your music education to fit your busy lifestyle with flexible scheduling options that accommodate your availability and commitments.
Embark on a musical journey like no other with Natalie's SOPA. Discover the joy of private music lessons that not only refine your skills but also ignite your passion for music. Join us, and let the music within you flourish.
Group Classes in Dance & Karate
The magic of the performing arts comes alive in our vibrant group dance and karate classes! Immerse yourself in a world of movement and discipline as our experienced instructors guide you through one or more of the exhilarating realms of hip hop, ballet, Georgian folk, Bollywood dance, or karate.
Discover the Benefits of Group Classes:
Community and Camaraderie: Join a community of like-minded individuals passionate about dance or karate. Our group classes provide an inclusive and supportive environment where you can forge lasting connections with fellow enthusiasts.
Teamwork and Collaboration: Experience the power of teamwork as you synchronize movements with others in our dance classes. Collaborative learning enhances coordination, communication, and a sense of collective achievement.
Cultural Fusion: Explore the diversity of dance styles, from the urban beats of hip hop to the elegance of ballet, the spirited rhythms of Georgian folk, and the colorful expressions of Bollywood. Our classes celebrate the richness of global cultures through movement and music.
Physical Fitness: Get in shape and stay fit with our energizing dance classes and karate sessions. These group activities offer a fun and effective way to improve flexibility, strength, and overall physical well-being.
Artistic Expression: Unleash your creativity through group dance classes. Whether you're expressing emotions through contemporary dance or embracing the rhythm of Bollywood, our classes provide a platform for artistic expression and personal growth.
Confidence Building: Shine on stage with newfound confidence! Group classes offer opportunities for performances, helping students build self-assurance and overcome stage fright in a supportive and encouraging environment.
Discipline and Focus: In our karate classes, experience the discipline and focus associated with martial arts. Learn not just the physical techniques but also the mental resilience that comes with dedicated practice.
Skill Progression: Our skilled instructors guide you through progressive skill development. Whether you're a beginner or have prior experience, our group classes cater to various skill levels, ensuring everyone can thrive and advance.
Performance Opportunities: Showcase your talent! Group classes often culminate in exciting performances, allowing you to share your newfound skills and passion with friends, family, and the community.
Holistic Development: Embrace the holistic benefits of group classes, fostering physical fitness, artistic expression, teamwork, and personal growth in a positive and encouraging learning environment.
Join the movement at Natalie's SOPA, where group dance and karate classes transcend the ordinary, offering an exhilarating blend of culture, fitness, and artistic expression. Unearth your potential, make friends, and dance to the rhythm of your dreams. Enroll today and let the journey begin!
Testimonials
Karra K.
"This is a great school to bring out the passion of music in your child. Tamara and Natalie taught me piano and singing when I was younger for about five years. The teachers are kind, patient and extremely talented. They can help you figure out if piano, voice or both is what your child wants to focus on. If you want knowledgeable teachers and want to expose your child to the music world I highly recommend you speak with Natia and Teona. They have been singing from such a young age and come from a family of extremely talented musicians."
Meenakshi S.
"Mrs. Tamara Delon has been teaching my daughter for over a year noe and has made a significant difference in my daughter's progress in both piano and vouce. She focuses on learning the basics correctly to get the fundamentals right Nd nurture the child in the right growing direction. my daughter is always excited to go got her class as she is a fun personality to work with kids."
Nadia C.
"My son has been a vocal student of Teona for some time now. The best voice teacher ever!! She listens and cares about her students. Not only is she an amazing singer but she is a kind and enthusiastic teacher. She has a wonderful way of connecting with her students. So supportive and patient. my son always leaves her room feeling happy and confident about himself as a singer and as a person! I highly recommend her as a vocal coach."
Sonal B.
"Ms Delon is a phenomenal teacher, very solid and technique and works very well with the child to motivate and challenge them at the same time. She's a very experienced voice teacher and a piano teacher and my daughter loves working with her. I have seen substantial improvement in her technique, breath support and projection with Miss Delon and would recommend her to any student most highly."
Nikki C.
"My 5 year old started with Ms. Delon 2 months ago. Her piano teaching style is exceptional. She means real piano lessons and every single minute of her class is maximize! In a very short span of time, my daughter is reading and writing notes and playing several piano pieces. My daughter's love for music keeps growing more and more since the day we met Ms. Delon. She looks forward for her piano class every Saturday!"
Michelle I.
"Both my son and my daughter have been training with Natia for a couple of years and i am amazed at what they have learned during that time. Their ability to sing in front of an audience, hit their rifs and catch the rhythms have been really improving. She takes her time with them, explaining things and making sure they understand everything clearly before moving onto a different step. We love Natia and would recommend her to anyone that comes in sight."